The Harman Pellet Stove
Harman pellet stoves are made by the Harman Stove Company which is part of the Hearth & Home Technologies group who also make Quadrafire pellet stoves. They are based in Halifax, Pennsylvania.
Harman are the market leaders for pellet stoves. Dane Harman started making woodburning stoves in 1979, and produced his first pellet stove, (the Pellet Pro), in 1991, seven years after Whitfield.
Clever engineering is the basis of Harmon's success. They are the only company currently making pellet stoves with a bottom feed. The major advantage of this is that unburned pellets push ash out of the way as they enter the burnpot.
Because of this, Harman stoves can burn pellets of any ash content as well as other fuels such as paper pellets and biomass pellets made from grasses although a better fire will always come from low ash fuel.
Harman run a state of the art plant where the facilities include robot welding, CNC moulding, laser cutting and CAD/CAM 3D design and manufacture.
Dane Harman's job before he started Harman Stoves was putting together heat exchangers for the American Heat Corporation, which was good experience as a good heat exchanger is fundamental to pellet stove performance. Harman pellet stove heat exchangers are known for their efficiency.
In 2003, the Accentra insert won the 'Vesta' award from the Hearth Products Association. In 2004, the P68 pellet stove won the same award.
Harman have over 600 dealers worldwide.
Freestanding Harman Pellet Stoves And Pellet Stove Inserts
Harman P35i Pellet Insert

The P35i pellet stove insert produces 35,000 btu. per hour on max, and can heat an area of up to 2,100 square feet. Two hopper sizes are available to accommodate smaller or large fireplace opening sizes.
Harman Pellet Pro 38 plus
A small step top stove that produces 38,000 btu. An extra 5,000 btu. is available in 'turbo' mode. Capable of heating an area of 1,400 square feet.
Harman P43

The P43 pellet stove inhabits the same body as the P38, but has the refinements of the more modern Harman designs in the "P" series, including the ignitor and the room temperature sensor.
Harman Accentra Freestanding Stove and Fireplace Insert


A cast iron stove with modern lines that produces 40,000 btu. and will heat an area of 1450 square feet. This stove uses a thermistor for even temperature regulation.
Harman Advance

Giving 48,000 btu. the Advance is rated to heat an area of 1,500 square feet. Microprocessor controlled to provide a constant room temperature.
Harman XXV

Looks like a traditional cast iron woodburner, even more with the top flue outlet. 50,000 btu. and heating an area of 1,700 square feet
Harman P61 and P61A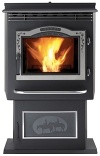 The P61 uses an exhaust sensor to automatically compensate for variable fuel quality. Producing 61,000 btu. this stove is rated to heat 2,000 square feet.
Harman P68

The most powerful of the range of Harman pellet stoves produces 68,000 btu. and will heat 2,200 square feet of space. Automatic pellet quality and thermistor room temperature control.
Harman PC45 Corn and Pellet Stove

The PC45 is designed to burn corn and pellets. It has a burnpot agitator to prevent corn clinkers from blocking the burnpot's air holes. Producing 45,000 btu. it is rated to heat 1,400 square feet.
Contact Information
Harman Stove Company
352 Mountain House Road
Halifax, Pennsylvania 17032
Tel: 717-362-9080
www.harmanstoves.com