The Harman P68 Pellet Stove
The Harman P68 is the most powerful of the Harman range of pellet stoves, winning the HPA 'vesta' award in 2004. It says a lot for the efficiency of the accordion heat exchanger that Harman feel it only needs a 135 cfm. distribution fan to transfer all that heat.
It's a step top and pedestal design with the ability to add a hopper extension, increasing the capacity to 136 lbs. and the burn time to 136 hrs. The Harman P68 has a mirror glass viewing window which permits a good fire view when the stove is operating. When the stove is off, the mirror glass presents a reflective surface.
This stove produces 68,000 btu. and is capable of heating an area of over 2,200 square feet. It has the Harman room temperature probe and the exhaust heat sensor.
The room temperature probe speeds up or slows the stove down to compensate for temperature change and takes frequent readings of temperature trends. The exhaust heat sensor adjusts the stove according to the quality of fuel being burned.
For most heat settings other than maximum, the stove is capable of running without its distribution blower being turned on. This means that you can have a quiet time with a view of a good fire.
The control board has some diagnostics to help isolate any problems. There is also a port where a Harman dealer can plug in a diagnostic tool.
If you are unsure of the meanings of the terms in the pellet stove review below,or their implications, please go to the Pellet Stove Reviews page for an explanation.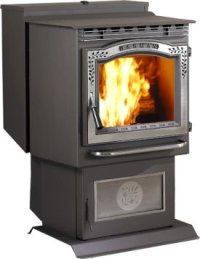 Heating Area
More than 2,200 sq. ft.
Max. Heat Output 68,000 btu.
Min. Heat Output Zero
Automatic Ignition Yes
Manual Ignition If needed
Hopper Capacity 76 lbs. 136 lbs. with optional extension
Burn time 76 hrs. 136 hrs. with hopper extension
Fuel Type Any biomass pellet
Glass Air Wash Yes
Built in Blower Yes
Convection Blower Capacity 135 cfm.
Thermostat Compatible A room temperature sensor is standard with this stove. It is possible to connect a thermostat as well.
E.P.A. Approved Yes
Emissions 1.8 gr./hr.
Efficiency 78%
Dimensions
Height 36.9 in.
Width 23.5 in.
Depth 29.5 in.
Weight 290 lbs.
Window Size 13 in. by 11 in
Flue Vent Size 3 in.
Top Vent No
Rear Vent Yes
Rear Vent Height 10 in.
Battery Backup Offered as an option. See Stove Sentry Surge Protector Recommended
Colours Black
Exhaust Temperature Sensor Yes
Low Draft Shutdown Yes
Construction Type Fabricated steel
Automatic Shutdown and Re-ignition Yes
Warranty
Six Years
Defects in materials or workmanship
Three years
Failure of mechanical or electrical parts.
Warranty transferable to a new owner for $25 fee.
Options
Steel floor protector
Side heat shields. (Reduce clearance to combustibles from 13 in. to 9 in.)
Hopper extension adding 60 lbs. to 76 lbs.
Choice of tile or slate designs for the ash drawer
Stainless steel, gold, or nickel trim kits
Ceramic log set
Laser cut door accents
Comments
The battery backup offered by Harman is not supported by onboard electronics. It's an inverter unit made by Surefire and will work effectively with any pellet stove. See the link above.
Maintenance
One ton of pellets burned
Empty the ash pan. Clean and scrape the burn pot, clean the heat exchanger, clean ash from the inside of the stove, clean the combustion blower fan and internal flue.
Once a year
Inspect and clean the flue if necessary. Check the door gasket for leaks.
Review
If you would like to leave a review of the Harman P68 pellet stove, please use the form on the contact page.