Non Electric Pellet Stove
The advantages of a non electric pellet stove are that there is nothing much to go wrong. Unlike a conventional pellet stove, there are no blowers, no auger and no control board. This means no blower noise and no consumption of electricity. It also means that there can be no heat exchanger - heat transfer must be by radiation from the body of the stove, so a non electric pellet stove will have either a long path to the flue, or a body of sufficient weight to conserve and radiate heat. Electricity free pellet stoves must be gravity fed. The pellets slide down to the fire box when the fuel in the fire box has burned enough to allow space for fresh fuel. It's the design of the airflow through the firebox, directed away from the hopper feed, that prevents the pellets in the hopper from igniting. There can be no thermostat. Heat regulation is always by controlling the maximum pellet feed, regulating the air to the burn pot, or both. Auto ignition isn't possible either, these stoves must be lit manually Possible improvements would be to use a thermocouple and valve to regulate the flow of pellets, so that pellets could be dropped remotely to the burn pot. A thermopile, ( a series of thermocouples joined together to produce more power ), might be sufficient to run a auger. I'm not aware of any non electric pellet stove using this idea.
Useful if you live off grid, a gravity feed pellet stove is usually used for camping or a cabin where the building or tent housing the stove has good ventilation. None except the Wiseway has a UL certificate, so insurance for a dwelling using them will be hard to get. If you know of a non electric pellet stove with a UL certificate, let me know using the contact button at the bottom of the page and I'll be pleased to include it. Here's a link to an explanation of
UL 1482
Wiseway
The Wiseway pellet stove is an intriguing design. The zigzag provides a long path to the flue allowing radiant heat transfer. A water heating element can be added to the back of the stove. EPA certification has been granted (emissions at 2 parts per million or 1.9gm/hr.). UL listed. Efficiency tested at 75%. The clearances are 2" on the back 8" on each side. No thermal hearth pad is needed as the steel base-plate is adequate by itself. Output is 57,000 Btu's/hr.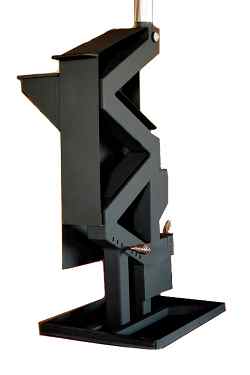 Clarry
The Clarry camping pellet stove dismantles for transport, the rails being used as carrying handles.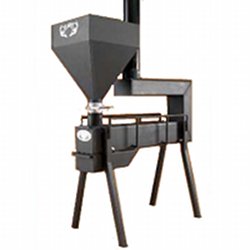 Riley
The Riley stove incorporates a cooking oven. The pellet hopper is the upright tube on the left.
La Nordica Extraflame
La Nordica Extraflame Cleo Combi Fly pellet stove is one of a number of similar european stoves. This one is interesting because although it has a pellet hopper, it can also burn cordwood. As far as I can find out, no-one distributes these stoves in North America. Could be an opportunity.
Breckwell Monticello
Here's an offering from Breckwell, which is not so far UL or EPA tested. It produces between 11,000 and 40,000 btu/hr. The Breckwell site says it holds 80 lbs. of pellets, but the manual says 45 lbs. - and will burn for twelve hours on low. With a six inch flue outlet on top, this is a direct replacement for conventional wood-burners and works in a similar way, but using pellets. It doesn't feed pellets automatically. They are loaded into a filling hopper from where they are moved to the burn chamber by operating a control.