Horizontal Venting For A Pellet Stove
Horizontal venting is the simplest and cheapest way to remove the exhaust gases from your pellet stove. The vent pipe is connected to an adapter at the back of the stove, then run out through the wall adapter plate to a distance of at least six inches from the exterior wall.
It's a good idea with this layout to include a wall protector plate to prevent the exhaust gases from discoloring the wall itself. The vent cap should be six inches or more from the face of the wall and more than three feet above any air inlet pipe within ten feet.
You need to check your local building regulations about how close the outlet can be to any windows and doors or inlets that might allow outside air into the building. As a rule of thumb, it can be four feet below or to the side, or one foot above.
The outlet vent must not be within three feet of any combustible material, and more than seven feet above a path or walkway, which brings us to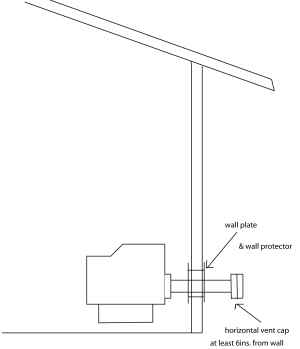 Horizontal Venting With A Small Rise
The advantage of putting a small rise in the design of your stove venting is that in case of a shutdown due to lack of fuel, electrical or mechanical failure, natural heat convection will remove the gases. Otherwise there's a chance that they might filter back into the house.
There are two ways of installing this type of stove venting: the riser can either be directly from the stove (inside the room), or outside the house. These two diagrams will give you an idea of what's involved.
Putting the vent pipe riser within the room will give a small increase in efficiency because the warm pipe will give out some heat. Not much, because the vent pipe is insulated by its air gap.
Putting the riser outside the house might be preferable from a decorative point of view unless you're going for that old-time look. In both cases it's a good idea to include the wall protector plate on the outside.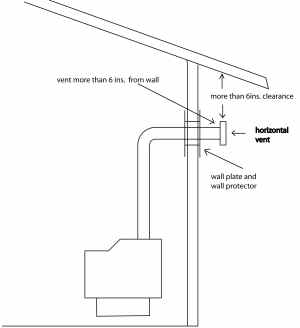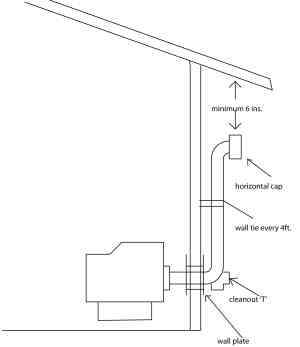 Pages Related to Pellet Stove Horizontal Venting
Three Or Four Inch Pellet Stove Venting?
Pellet Stove Pipe.
Selkirk Pellet Stove Pipe
Pellet Stove Vertical Venting
Chimney Vent Installation
Pellet Stove Hearth Pad