Harman P43 Pellet Stove
The Harman P43 pellet stove inhabits the same body as the P38, but has the refinements of the more modern Harman designs in the "P" series, including the ignitor and the room temperature sensor.
Producing 43,000 btu, the P43 is designed to heat in excess of 1,400 square feet. The Harman P43 is a step top and pedestal design with the option of adding a hopper extension, increasing the capacity to 110 lbs. and the burn time to 82 hrs. The P43 can burn a 50/50 mix of pellets and corn. (See comments below). If you are unsure of the meanings of the terms in the pellet stove review below,or their implications, please go to the
Pellet Stove Reviews
page for an explanation.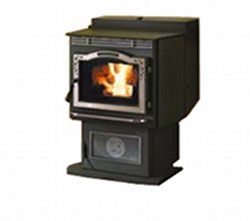 Heating Area
1,400 sq.ft
Max. Heat Output
43,000 btu.
Min. Heat Output
Zero
Automatic Ignition
Yes
Manual Ignition
If needed
Hopper Capacity
50 lbs. (110 with hopper extension)
Burn time
37 hrs. on low. 82 hours with the hopper extension
Fuel Type
Biomass pellets, or 50% corn and pellets.
Glass Air Wash
Yes
Built in Blower
Yes
Convection Blower Capacity
135 cfm.
Thermostat Compatible
A room temperature sensor is standard with this stove. It is possible to connect a thermostat as well.
E.P.A. Approved
Yes
Emissions
1.8 gr./hr.
Efficiency
78%
Dimensions
Height 32 in.
Width 22 in.
Depth 28.5 in.
Weight
212 lbs.
Window Size
12.9 in. by 7.5 in.
Flue Vent Size
3 in.
Top Vent
No
Rear Vent
Yes
Rear Vent Height
9 in.
Battery Backup
No,
See Stove Sentry
Surge Protector
Recommended
Colours
Charcoal, Goldenfire Brown, Satin Black
Exhaust Temperature Sensor
Yes
Low Draft Shutdown
Yes
Construction Type
Fabricated steel
Automatic Shutdown and Re-ignition
Yes
Warranty
Six Years
Defects in materials or workmanship
Three years
Failure of mechanical or electrical parts.
Warranty transferable to a new owner for $25 fee.
Options
Side heat shields. (Reduces clearance to combustibles from 18 in. to 12 in.)
Laser cut design in the window surround.
Hopper extension - increases capacity to 110 lbs.
Ash door tiles. ( 10 design choices )
Decorative slate ash door panels
Colours: Charcoal, Goldenfire Brown or Satin Black
Comments
Burning a corn/pellet mix will result in increased maintenance of the burn pot and ash pan.
Maintenance
One ton of pellets burned
Empty the ash pan.Clean and scrape the burn pot, clean the heat exchanger, clean ash from the inside of the stove.
Clean the combustion blower fan and internal flue. Once a year Inspect and clean the flue if necessary. Check the auger for fines (dust) and clean if necessary.
Review
If you would like to leave a review of the Harman P43, please use the form on the contact page.