Harman P35i Pellet Stove Insert
The Harman P35i pellet stove insert produces 35,000 btu. per hour on max, and can heat an area of up to 2,100 square feet. Two hopper sizes are available to accommodate smaller or large fireplace opening sizes. For ease of maintenance, Harman provide this pellet insert with a rail system that allows the stove to roll in and out of the fireplace - giving access to all the components without dismantling. For raised hearths, there is a stand which supports the front of the fireplace insert if it extends over the front of the hearth in maintenance mode. If you want to relax quietly without the blower on, the P35i can be run like that, although heat output will be reduced. This unit can be run either in stove temperature mode - keeping the stove at the desired temperature, or room mode - which senses room temperature.
If you are unsure of the meanings of the terms in the pellet stove review below,or their implications, please go to the
Pellet Stove Reviews
page for an explanation.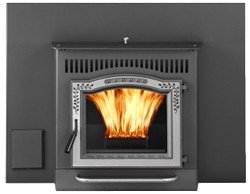 Heating Area
Up to 2,100 square feet
Max. Heat Output
35,000 btu/hr
Min. Heat Output
6,000 btu/hr, zero with optional thermostat
Automatic Ignition
Yes
Manual Ignition
If required
Hopper Capacity
From 41 to 62 lbs. depending on the size of the fireplace it is installed in.
Burn time
Up to 44 hrs on low, assuming maximum hopper size
Fuel Type
Wood pellets or 50/50 corn and pellets
Glass Air Wash
Yes
Built in Blower
Yes
Convection Blower Capacity
160 cfm.
Thermostat Compatible
Yes
E.P.A. Approved
Yes
Emissions
0.4 gm/hr.
Efficiency
78%.
Weight
262 lbs
Window Size
13.7 in. by 10 in.
Flue Vent Size
3 in.
Top Vent
No
Rear Vent
Yes
Rear Vent Height
18 in.
Battery Backup
No,
See Stove Sentry
Surge Protector
Recommended
Colours
Black
Exhaust Temperature Sensor
Yes, the exhaust sensor probe connects with the control board as part of the heat regulation system
Low Draft Shutdown
Yes
Construction Type
Fabricated steel
Automatic Shutdown and Re-ignition
Yes,
Options
Decorative log kit
Trim finishes in nickel, stainless steel or gold.
Hearth pad extension.
Dimensions for Harman P35i Fireplace Insert
Dimensions Insert
Height 24 in.
Width 24 in
Depth 10 in. onto hearth, 14 in. into fireplace
Min. Fireplace Size
Height 19.5 in for small hopper, 23.5 in. for larger hopper
Width 24 in.
Depth 14.5 in.
Insert Surround Dimensions
Standard 40 in high by 31 in wide
Oversize 46 in high by 34 in wide
Comments
The seal on the hopper gasket can deteriorate, resulting in inconsistent pellet ignition on start up, and the viewing glass becoming sooted up. Easy fix with high temp. silicone.
Maintenance
Daily: Scrape the burn pot. Weekly: Empty ash, clean viewing glass. Monthly: Clean combustion fan and blower. Every ton of pellets burned: Empty the ash pan, scrape the burn pot, clean the heat exchanger surfaces. Once a year: Clean and scrape the burn pot and space underneath, clean the heat exchanger, clean ash from the inside of the stove, clean the combustion blower fan and convection fan, also internal flue. Clean fines from the fuel delivery system. Inspect and clean the external flue if necessary.
Warranty
One Year: All parts and materials
Two Years: Igniters, glass, electronics and blowers
Three Years: Burn pot, firebox and heat exchanger
Five Years: Castings and baffles
Seven Years: Manifold tubes Warranty transferable to a new owner for $25 fee within two years of commencing.
Review
If you would like to leave a review of the Harman P35i pellet insert, please use the form on the contact page.