Quadrafire Pellet Stoves
Founded by Alan Trusler and Dan Henry, Quadrafire pellet stoves have been in business since 1990 when they brought out the first fully automatic, self igniting pellet stove with a heat exchanger and a patented pellet delivery system.
The Quadra-Fire pellet stove is made by one of the Hearth & Home Technologies family of brands which includes the Harman pellet stove company. As a company, Hearth & Home Technologies' stated aims are a commitment to product innovation, quality, and reliability.
Each Quadra-Fire stove is designed with efficiency in mind. Thick steel is used to extend durability of each pellet stove. Quadra Fire stoves, inserts and fireplaces meet the guidelines established by the U.S. Green Building CouncilÕs LEED,(Leadership in Energy and Environmental Design), for Homes and the National Association of Home BuildersÕ Green Building Standards for sustainable building practices.
The company produces energy efficient and environmentally sustainable hearth products, which are manufactured, packaged and delivered with respect for the environment.
All models use Quadrafire's easy clean firepot which purges ash while in use. A quick scrape and a pull on a lever drops the ash into the ash pan.
All Quadrafire pellet stoves and fireplace inserts come with a thermostat as standard and a blockage proof pellet delivery mechanism. They are approved to burn wood pellets, or a mixture of wood pellets and shelled corn. The Mt. Vernon AE is approved for additional fuels.
Freestanding Quadrafire Pellet Stoves And Fireplace Inserts
Castile


A traditional looking cast iron stove or insert with a herringbone brick effect firebox liner. Produces 30,000 btu. Remote control option. Capable of burning corn.
Santa Fe


A modern looking stove or insert with a good sized viewing window. Produces 30,000 btu. Capable of burning corn. Remote control option.
Classic Bay 1200


A powerful (40,000 btu.) bay window style stove or insert with a large pellet hopper. Capable of burning corn. A remote control is optional.
Mount Vernon AE


A large cast iron stove or insert capable of burning a wide variety of biofuels, including wood pellets in various grades, 100% corn, sunflower seeds, and wheat. Produces 60,000 btu. and has battery backup capability.
Edge 60 Pellet Fireplace
Edge 60 Pellet Fireplace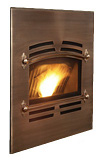 The Quadrafire Edge 60 pellet fireplace is designed for homes where no fireplace existed before. Capable of 60,000 btu.'s, it will heat at least 2,400 square feet and will burn standard or premium grade wood pellets, shelled corn, wheat and black sunflower seeds.
Contact Information
Quadra-Fire
Hearth & Home Technologies
1445 North Highway
Colville,
WA 99114-2008
www.quadrafire.com