The Quadrafire Mt Vernon Pellet Stove And Fireplace Insert
The Quadrafire Mt Vernon is Quadrafire's most powerful pellet stove. It's built of cast iron, putting out 60,200 btu., with a 47 hour burn time and the ability to heat 3,800 square feet.
It can be fuelled with wood pellets of all grades,
corn,
sunflower seeds, and wheat. Controls on the programmable thermostat allow fuel type selection without altering settings on the stove. The thermostat also has a low fuel warning.
The unit has a large heat exchanger and a cast iron ribbed firebox back for good rates of heat transfer and comfort quiet blowers to move the heat around.
All that is needed to utilise the battery backup system is a charged 12 volt battery and the optional power cord. See comments below.
For ease of maintenance, and to deal with the by products of the high ash fuel this stove is capable of burning, it is fitted with the auto clean firepot system.
This cleaning system comes into action When the thermostat gets up to temperature, on shutdown, or when the desired amount of burn time has passed. See below for more details.
Cast iron warming shelves are an option with the freestanding model.
If you are unsure of the meanings of the terms in the pellet stove review below,or their implications, please go to the
Pellet Stove Reviews
page for an explanation.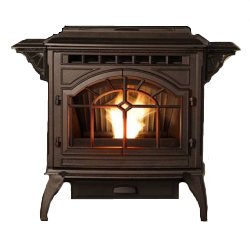 Heating Area
3,800 sq.ft.
Max. Heat Output 60,200 btu.
Automatic Ignition Yes
Manual Ignition If Needed
Hopper Capacity Freestanding 81 lbs. Insert 56 lbs.
Burn time Freestanding 47 hrs, Insert 33 hrs.
Fuel Type Wood pellets all grades, corn, sunflower seeds, and wheat
Glass Air Wash Yes
Built in Blower Yes
Convection Blower Capacity 220 cfm.
Thermostat Compatible Supplied with a programmable thermostat as standard
E.P.A. Approved Yes
Emissions 0.9 gr./hr.
Efficiency 83.6%
Dimensions
Height 32.3 in.
Width 28.5 in.
Depth 29.2 in.
See below for insert dimensions
Weight 425 lbs.
Window Size 18 in. by 10 in.
Flue Vent Size 3 in.
Top Vent No (rear vent adaptor)
Rear Vent Yes
Rear Vent Height 20 in.
Battery Backup Yes, 12 volt power cable is optional
Surge Protector Recommended
Colours
Matte black paint
Sienna bronze or Willow baked enamel
Porcelain mahogany

Exhaust Temperature Sensor No
Low Draft Shutdown Yes
Construction Type Cast Iron
Automatic Shutdown and Re-ignition Yes, but not under battery back up
Warranty Limited Lifetime
One Year: Parts and material except as covered by Conditions, Exclusion, and Limitations
Two Years: Igniters, Electronic Components,and Glass. Blowers
Three Years: Firepots, Castings & Baffles, Firebox, Heat Exchanger.
90 Days: All Replacement Parts
Options
Sienna bronze or Willow baked enamel
Porcelain Mahogany
Log set
Cast iron warming shelves (Freestanding stove only)
Outside air kit
6 foot 12-volt power cord for battery backup
Additional Options for Insert
Surround panels with matching cast iron trim
Basic surround panels with gold or black nickel trim
Adjustable hearth support
Dimensions for Mt Vernon Fireplace Insert
Dimensions Insert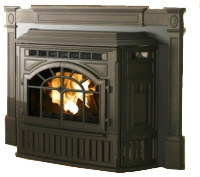 Height 29.75 in.
Width 37 in.
Depth 13.2 in. onto hearth 15 in. into fireplace
Min. Fireplace Size
Height 23.9 in.
Width 32 in. front, 23.9in. back
Depth 15 in.
Insert Surround Dimensions
Basic surround set: 50 in. by 33 in.
Cast surround set : 46.2 in. by 35 in.

Auto Clean Firepot
The floor of the firepot in the Quadrafire Mt Vernon will open and deposit the ash into the ash pan. It takes approximately 2 minutes to complete the auto-clean cycle. The floor will then shut, and if the thermostat is still calling for heat, the fire will start again.
Comments
When operating the Quadrafire Mt Vernon under battery back up conditions, the stove has to be lit manually. There is no built in battery charger.
Maintenance
Daily:
Empty and clean the burn pot and ash pan depending on fuel type
Weekly:
Empty ash pan, clean ash from firebox, clean window glass
Fortnightly:
Clean the heat exchanger and drop tube.
Monthly:
Inspect the firepot auto clean system, check the door latch and gasket, clean the hopper.
Every Year:
Clean the blowers, the exhaust passages and the flue. Clean out the firebox.
Review
If you would like to leave a review of the Quadrafire Mt Vernon, please use the form on the Contact Page.