The Quadrafire Castile Pellet Stove And Fireplace Insert
The Quadrafire Castile pellet stove has patented automatic ignition and jam-free feed systems, an aluminum heat exchanger, and a revolutionary easy clean firepot.
Constructed of cast iron, the stove has a large, attractive arched viewing window which shows the herringbone brick effect steel firebox back as well as the fire with its realistic log set.
It comes with a thermostat as standard, with the option of corded or cordless remote controls.
This stove can burn shelled corn as well as wood pellets. The advised mix is 50:50 but corn can be used by itself. See Comments below.
The stove is available in four colours. Matte black painted finish, Mahogany Porcelain enamel, or Bronze / Willow baked powder coating.
If you are unsure of the meanings of the terms in the pellet stove review below,or their implications, please go to the Pellet Stove Reviews page for an explanation.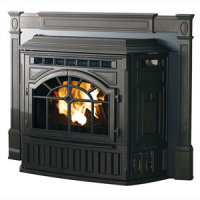 Heating Area
1,500 sq.ft.
Max. Heat Output 30,000 btu.
Automatic Ignition Yes
Manual Ignition If needed
Hopper Capacity Freestanding 40 lbs. Insert 45 lbs.
Burn time Freestanding 26 hrs. Insert 30 hrs.
Fuel Type Standard or premium grade wood pellets / corn
Glass Air Wash Yes
Built in Blower Yes
Convection Blower Capacity 160 cfm.
Thermostat Compatible Yes, included as standard
E.P.A. Approved Yes
Emissions 0.8 gr./hr.
Efficiency 84%
Dimensions Freestanding
Height 28.5 in.
Width 23.6 in.
Depth 24.75 in.
Dimensions Insert
Height 24.75 in.
Width 32.3 in.
Depth onto hearth 9.75 in. into fireplace 13.2 in.
Min. Fireplace Size
Height 19 in.
Width 28 in. front, 23.5 in. back
Depth 14 in.
Insert Surround Dimensions
Small cast iron 30 in. by 42.5 in.
Medium cast iron 34 in. by 48 in.
Small steel 30 in. by 40 in.
Weight Freestanding 258 lbs. Insert 260 lbs.
Window Size 15 in. by 12 in.
Flue Vent Size 3 in.
Top Vent No
Rear Vent Yes
Rear Vent Height Freestanding 16.1 in Insert 12.75 in.
Battery Backup No See Stove Sentry Surge Protector Recommended
Colours
Sienna bronze and Willow baked enamel, Porcelain Mahogany. Matte black paint
Exhaust Temperature Sensor No
Low Draft Shutdown Yes
Construction Type Cast Iron
Automatic Shutdown and Re-ignition Yes, but not with 100% corn
Warranty Limited Lifetime
One Year: Parts and material except as covered by Conditions, Exclusion, and Limitations
Two Years: Igniters, Electronic Components,and Glass. Blowers
Three Years: Firepots, Castings & Baffles, Firebox, Heat Exchanger.
90 Days: All Replacement Parts
Options
Log Set, 4 pieces
Extra Top Log
Outside Air Kit
Rear Vent Adapter, 3 to 3 inches
Rear to Top Vent Adapter, 3 to 3 inches
Top Vent Adapter Kit, 3 to 3 inches
Top Vent Adapter Offset Collar, 3 to 6 inches
Thermostat, Programmable
Remote Control Smart Stat II
Remote Control Smart Bat II
Comments
If using corn without pellets as fuel in the Quadrafire Castile, the corn won't automatically reignite unless it has some wood pellets mixed in. This means it's necessary to keep the stove on.
To keep the stove running, set the thermostat to maximum. Set the stove itself to low or medium so that the thermostat doesn't get tripped.
Maintenance
Daily:
Empty and clean the burn pot
Weekly:
Empty ash pan, clean ash from firebox, clean window glass
Monthly:
Clean beneath the heat exchanger, check the door latch and gasket, clean the heat exchanger and drop tube, clean the hopper.
Every Year:
Clean the blowers, the exhaust passages and the flue. Clean out the firebox,
Review
If you would like to leave a review of the Quadrafire Castile, please use the form on the Contact Page.