The St Croix Lancaster Corn And Pellet Stove
The St Croix Lancaster is a neat, small corn or pellet stove with the same heat output as its bigger brothers. The hopper can be doubled in size by using the optional hopper extension. This also doubles the maximum burn time on the low heat setting from 20 to 40 hours.
The Lancaster is rated to heat 1,800 square feet, producing 40,000 btu. Hopper capacity is 35 lbs. Although it has optional eight and a half inch legs which add an air of elegance, they are not necessary and the basic stove can sit directly on a hearth pad.
The heat exchanger is made from stainless steel to ensure long life, and the ash pan is large enough to only need emptying weekly.
Using the optional pellet conversion kit, the St Croix Lancaster can be converted to burn wood pellets. As standard, this stove is capable of burning corn, distiller's grain pellets, cherry pits, wheat and rye.
The control board slides out from the back of the stove when needed, normally it's hidden. It has some useful diagnostic features to tell you whether or not all's well with the stove.
The Lancaster is now replaced in the range by the St Croix Element
If you are unsure of the meanings of the terms in the pellet stove review below,or their implications, please go to the
Pellet Stove Reviews
page for an explanation.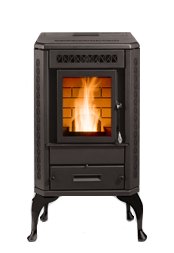 Heating Area
1,800 sq.ft.
Max. Heat Output 40,000 btu.
Min. Heat Output 16,000 btu.
Automatic Ignition No
Manual Ignition Yes
Hopper Capacity 35 lbs., 70 lbs. with optional hopper extension
Burn time 20 hrs., 40 hrs. with hopper extension
Fuel Type Corn, distiller's grain pellets, cherry pits, wheat, rye
Glass Air Wash No
Built in Blower Yes
Convection Blower Capacity210 cfm.
Thermostat Compatible Yes, available as an option
E.P.A. Approved No
Emissions 0.6 gr./hr. Using wood pellets, other fuels will vary
Efficiency 78% Using wood pellets, other fuels will vary
Dimensions
Height 28.5 in, 37.2 in. with optional legs
Width 20 in.
Depth 18 in.
Weight 240 lbs.
Window Size 11 in. by 9 in.
Flue Vent Size 3 in.
Top Vent No
Rear Vent Yes
Rear Vent Height 8.4 in., 16.9 in. with optional legs
Battery Backup No, See Stove Sentry Surge Protector Recommended
Colours Black
Exhaust Temperature Sensor Yes
Low Draft Shutdown Yes
Construction Type Fabricated steel
Automatic Shutdown and Re-ignition No
Warranty
Original owner: Five years on steel parts excluding the burn pot, Two years on electrical components.
Options
Nickel or gold door trim
Nickel or gold reveal
Black, nickel or gold legs
Log Set
Pellet pot (converts stove to wood pellets)
35 lb. hopper extension
Comments
Because it does not have an igniter, this stove will not shut down and re-ignite. When using a thermostat, it will cycle between high and low settings depending on how much heat is required.
The Lancaster is a small stove, maximum burn time on the low heat setting without refilling is 20 hours. This can be doubled to 40 hours with the optional hopper extension.
Maintenance
Daily: Drop the clinkers into the ash pan - twice a day if burning continuously on high. Use the scraper rod to clean the heat exchanger tubes. Clean the viewing window.
Weekly: Empty the ash pan, clean the air holes in the burn pot.
Monthly: Remove baffle plate and clean the heat exchanger tubes. Clean the exhaust ash traps.
Check the flue venting every two months during the heating season. Check the condition of the stove's gaskets.
Summer shutdown: Remove all fuel from the stove and clean thoroughly. Sweep the venting system, vacuum motor compartment behind firebox, clean the convection and combustion fans.
Review
If you would like to leave a review of the St Croix Lancaster, please use the form on the contact page.