The St Croix Ashby Multi Fuel Fireplace Insert
The St Croix Ashby fireplace insert can be specified in two version: Pellet and cherry pit using the versa-grate and The Multi fuel version using the multi fuel grate which will burn pellets, corn, wheat, rye, cherry pits and distillers grain.
Both versions use the same stove body.
The St Croix Ashby will produce up to 40,000 btu. per hour and is rated to heat an area of 1,800 square feet. Because of the higher ash contents of other fuels, only the pellet version of the Ashby is EPA certified. Two convection fans are fitted which are capable of operating independently should one fail. The sixty pound hopper can be reduced in size to suit smaller fireplaces, (See Comments below). With a 60 lb. hopper, this fireplace insert can burn continuously on the low heat setting for forty eight hours without re-filling. The multi fuel version has an enlarged ash pan. If you are unsure of the meanings of the terms in the pellet stove review below,or their implications, please go to the
Pellet Stove Reviews
page for an explanation.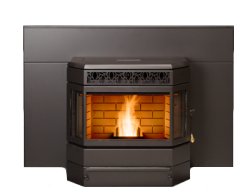 Heating Area
1,800 sq. ft.
Max. Heat Output 40,000 btu.
Min. Heat Output 10,500 btu. Zero with optional thermostat.
Automatic Ignition Yes for the pellet version, no for corn.
Manual Ignition Yes, if needed using pellets. Corn burning version must be lit manually.
Hopper Capacity 60 lbs.
Burn time 48 hours on the low heat setting
Fuel Type Pellets and cherry pits can be used with the versa-grate system installed. Pellets, corn, wheat, rye, cherry pits and distillers grain can be burned with the multi-fuel burn system installed.
Glass Air Wash No
Built in Blower Yes
Convection Blower Capacity Two convection fans capable of working independently. Capacity undisclosed
Thermostat Compatible Yes, available as an option.
E.P.A. Approved Yes, for wood pellets
Emissions 1.4 gm./hr.
Efficiency 78%
Dimensions for the St Croix Ashby Fireplace Insert
Dimensions Insert
Height 19.2 ins
Width 23 ins.
Depth 12 ins. onto hearth, 15.75 ins. into fireplace
Min. Fireplace Size
Height 16.5 ins for pellet version, 20.6 ins for corn version
Width 24 ins.
Depth 16 ins
Insert Surround Dimensions
45 ins. by 32 ins. for the standard surround
Weight 267 lbs.
Window Size 25 ins. by 10 ins.
Flue Vent Size 3 in.
Rear Vent Yes, vertical or horizontal
Rear Vent Height 6 ins.
Battery Backup No See Stove Sentry Surge Protector Recommended
Colours Matte black, with accents in gold, nickel or black
Exhaust Temperature Sensor Yes
Low Draft Shutdown Yes
Construction Type Fabricated steel
Automatic Shutdown and Re-ignition Yes, with optional thermostat
Warranty
Original owner: Five years on steel parts excluding the burn pot, Two years on electrical components.
Options
Versa-grate for pellets and cherry pits
Multi fuel grate for all fuels
Cabinet kit for zero clearance installation
Wall thermostat
Trim accents in gold, nickel or black
Comments
As the multi fuel burning version must be lit manually, it will not cycle on and off using a thermostat.
An extension ash pan must be used with the multi fuel version because of the increased ash content of the fuels. This raises the height of the unit by four inches.
The hopper height is adjustable to accommodate smaller fireplaces. Lowering the hopper will result in less capacity.
Maintenance
Daily: Or more often if using high heat setting, clean the burn pot. Check the ash pan, clean the heat exchanger tubes, clean the glass. Weekly: Empty the ash pan, clean out air holes in the burn pot, clean the ash traps in the exhaust system. Monthly: Clean ash from behind the heat exchange baffle. Every two months: Check the exhaust venting and clean if necessary. Yearly: Remove all fuel, clean the burn pot, firebox, ash pan and ash traps. Clean the exhaust system, vacuum the fan area behind the firebox. Remove and clean the convection and combustion fans.
Review
If you would like to leave a review of the St Croix Ashby pellet stove insert, please use the form on the contact page.