Rika Integra 11 (Austroflamm)
The Rika Integra 11, still in production from the days when it used to be called the Austroflamm Integra, is a very popular high output stove with bay window styling and a choice of accent colours. It produces up to 42,000 btu. per hour and can heat an area of 2,500 square feet and has an automatic hourly cleaning cycle.
The Rika Integra has programmable control with different settings possible for every day of the week. This function is also available on the optional wall thermostat. This is a very high quality pellet stove, with a stainless steel heat exchanger and cast iron firebox back plates. The motors run on ball bearings for quiet operation. The Integra has an automatic cleaning cycle that is factory set to happen every hour. The self cleaning frequency can be adjusted by the owner to accommodate different standards of fuel quality. There is also the option of text message control. If you are unsure of the meanings of the terms in the pellet stove review below,or their implications, please go to the
Pellet Stove Reviews
page for an explanation.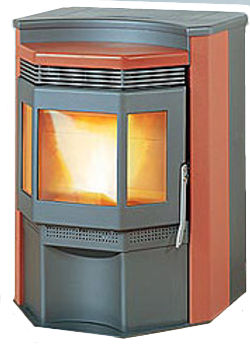 Heating Area
2,500 sq.ft.
Max. Heat Output
42,000 btu.
Min. Heat Output
9,000 btu. Zero with optional thermostat, (see comments below)
Automatic Ignition
Yes
Manual Ignition
No
Hopper Capacity
Freestanding 145 lbs. insert 99 lbs.
Burn time
Freestanding 145 hrs. on low heat setting. insert 99 hrs.
Fuel Type
Premium pellets preferred, but will burn standard
Glass Air Wash
Yes
Built in Blower
Yes
Convection Blower Capacity
210 cfm.
Thermostat Compatible
Yes, Rika's seven day programmable thermostat is available as an option.
E.P.A. Approved
Yes
Emissions
2.7 gr./hr.
Efficiency
78%
Dimensions
Height 37.5 in.
Width 28.5 in
Depth 25.75 in
See below for Integra insert dimensions
Weight
Freestanding 375 lbs. insert 258 lbs.
Window Size
Central window 11 in. by 9 in. Side windows 11 in. by 4.25 in
Flue Vent Size
3 in. (a four inch venting system is recommended.)
Top Vent
No
Rear Vent
Yes
Rear Vent Height
Freestanding 17.3 in. insert 7.5 in
Battery Backup
No,
See Stove Sentry
Surge Protector
Recommended
Colours
Matt Silver with ten choices of decorative panel colour, (five for the insert)
Exhaust Temperature Sensor
Yes
Low Draft Shutdown
Yes
Construction Type
Fabricated steel, (cast iron firebox back, stainless steel heat exchanger)
Automatic Shutdown and Re-ignition
Yes
Warranty
Five years on all steel parts except the burn pot.
Two years on electrical components.
Warranty extendable to five years by arrangement with Dealer.
Options
Seven day programmable wall thermostat
Ten choices of decorative panel colour
Dimensions for Rika Integra 11 Pellet Stove Insert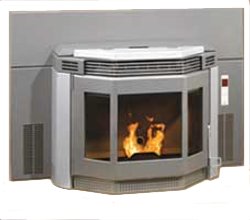 Dimensions Insert
Height 23.5 in
Width 28.5 in
Depth 14.25 in. onto hearth 11.5 in. into fireplace
Min. Fireplace Size
Height 19.75 in.
Width 27.25 in.
Depth 11.5 in. (plus 'T' dimension if used)
Insert Surround Dimensions
Small 29 in. by 42 in.
Large 32 in. by 46 in.
Comments
The Rika Integra has been around for a while and is still highly regarded and modern looking.
Maintenance
Daily: Check the burn pot, wipe the glass, clean the heat exchanger.
Every few days: Clean the burn pot and empty the ash pan as needed.
Monthly: Clean the heat exchanger area behind the firebox back plates, clean under the burn pot, clean the door gaskets.
Yearly: Empty and clean the hopper, clean the venting system, clean the combustion fan housing.
Review
If you would like to leave a review of the Rika Integra 11, please use the form on the contact page.