The Austroflamm Pellet Stove
Three models of the Austroflamm pellet stove are available in the USA and Canada, imported by offgridstovesandmore.com, (contact details below). Most people know these stoves as 'Austroflamm', but that was a trade name for the North American market and has been dropped. Austroflamm stoves are made by Rika Metallwarengesellschaft, and RIKA is the name by which they are now known.
RIKA pellet stoves are made in Austria, and have been in production since 1993. The company also make woodburning stoves and cookstoves, freestanding fireplaces and water heating units. Sometimes called 'The Mercedes of Pellet Stoves', these Rika stoves have motors that use ball bearings for extreme quietness of operation. They have a seven day programmable timer, and can also be controlled by text messaging from a mobile phone. Rika was founded more than 50 years ago in Micheldorf, Austria by Karl Riener and his family. From a small company, specializing in hand made wrought iron products, grew a large, well known company recognized today as Rika Metallwarengesellschaft.
Freestanding Austroflamm Pellet Stoves (RIKA) and Austroflamm Insert Pellet Stoves
Rika Integra 11 and Integra 11 Insert


Still in production from the days when it used to be called the Austroflamm Integra, the Rika Integra 11 is a very popular high output stove with bay window styling and a choice of accent colours. It produces up to 42,000 btu. per hour and can heat an area of 2,500 square feet and has an automatic hourly cleaning cycle.
Rika Premio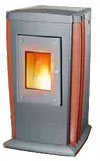 The Rika Premio is a slim, modern looking stove with a choice of ceramic or aluminium ribs to aid heat distribution. This stove gives 35,600 btu. and is capable of heating an area of 1,500 square feet.
Rika Visio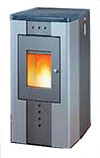 The Rika Visio again has slim, modern styling with a choice of colours for the ceramic plates that decorate the top and front. This stove also gives 35,600 btu. and is capable of heating an area of 1,500 square feet.
Contact Information
offgridstovesandmore
RIKA.at