Seraph Genesis 108 Multi-Fuel Stove
The Seraph Genesis 108 multi-fuel corn and pellet stove is a pedestal type stove with a cast iron door/viewing window incorporating a sunrise pattern.
This stove is capable of heating 2,500 square feet, with a maximum output of 60,000 btu. per hour. The solid state controller is programmable for any type of biomass fuel that can be fed through the stove. This is a very advanced controller which gives a read-out of the fire temperature and the exhaust temperature enabling fine control of the stove's combustion efficiency. As well as this, the display is in text, so you don't have to go to the manual to find out what a combination of flashing lights mean. Another function of the controller on the Genesis 108 is to display when routine maintenance should be carried out. The controller also has a child safety lock. If you are unsure of the meanings of the terms in the pellet stove review below,or their implications, please go to the
Pellet Stove Reviews
page for an explanation.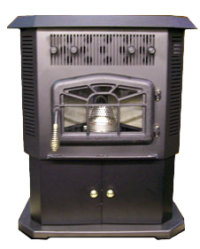 Heating Area
2500 sq. ft.
Max. Heat Output
60,000 btu.
Min. Heat Output
10,000 btu.
Automatic Ignition
No
Manual Ignition
Yes
Hopper Capacity
100 lbs.
Burn time
53 hrs. on low heat setting
Fuel Type
Wood Pellets, Corn, Distillers grain Pellets, Walnut Shell Pellets, Paper Pellets, Grass Pellets, Corn Stover Pellets, Cherry Pits, Soybeans, Peanut Shell Pellets And Many More
Glass Air Wash
Yes
Built in Blower
Yes
Convection Blower Capacity
Thermostat Compatible
Yes, see comments below
E.P.A. Approved
Yes
Emissions
2.1 gm./hr.
Efficiency
83.2%
Dimensions
Height 36.9 ins.
Width 31 ins.
Depth 28 ins.
Weight
Window Size
13.25 ins. by 8 ins
Flue Vent Size
3 in.
Top Vent
No
Rear Vent
Yes
Rear Vent Height
16 ins.
Battery Backup
Yes, available as an option from Seraph Industries
Surge Protector
Recommended
Colours
Black, silver or copper
Exhaust Temperature Sensor
Yes
Low Draft Shutdown
Yes
Construction Type
Fabricated steel with cast iron door.
Automatic Shutdown and Re-ignition
No, the stove must be lit manually
Warranty
Original purchaser only
Lifetime for ceramic glass against heat breakage
Five years for steel components
One year for firepot, cluster buster and electrical components
Options
Hot water system
Black, copper or silver powder coating
Battery backup power
Comments
Because the stove must be lit manually, it won't cycle on and off with a thermostat but will drop to the minimum burn when heat is not demanded.
Maintenance
Daily, or as needed: Remove any clinkers. Brush ash into the ash pans and empty as needed.
Twice weekly, or as needed: Clean the heat exchanger. Weekly: Inspect the hopper for a build up of fines, clean if required.
Monthly: Clean out the firebox and venting ports.
Yearly: Empty and clean the hopper. Clean the stove thoroughly. Coat the firebox with a corrosion inhibitor.
Review
If you would like to leave a review of the Seraph Genesis 108, please use the form on the contact page.