Breckwell Solstice
The Breckwell Solstice revolutionises the design of the traditional, rather old fashioned looking American pellet stove, bringing to it an up to date modern look.
Available in metallic black or metallic brown and bright red, the Solstice is cylindrical in form with a large, rounded front and sides and stands on four cylindrical feet.
The Solstice features 'Tri-source' heat distribution, which means that it has a vent at each side as well as the front vent to distribute its heat laterally as well as the forwards only direction of a more traditional pellet stove. Capable of producing up to 40,000 btu. an hour, and heating an area of 1,800 square feet, the Breckwell Solstice uses the tried and tested components of the existing range of Breckwell pellet stoves. With its large 80 pound hopper and good sized ash pan, this stove can burn for up to 80 hours on the low heat setting without re-fuelling, (longer if using the optional thermostat). If you are unsure of the meanings of the terms in the pellet stove review below,or their implications, please go to the
Pellet Stove Reviews
page for an explanation.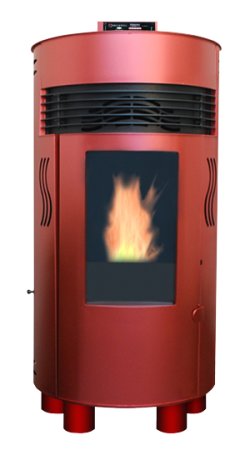 Heating Area
1,800 sq.ft.
Max. Heat Output
40,000 btu.
Min. Heat Output
8,200 btu, zero with optional thermostat
Automatic Ignition
Yes
Manual Ignition
If necessary
Hopper Capacity
80 lbs.
Burn time
Up to 80 hrs. on low heat setting
Fuel Type
Premium grade wood pellets only recommended
Glass Air Wash
Yes
Built in Blower
Yes
Convection Blower Capacity
165 cfm.
Thermostat Compatible
Yes, available as an option. See comments below
E.P.A. Approved
Yes
Emissions
2.2 gm./hr.
Efficiency
80%
Dimensions
Height 43.2 in.
Width 22.25 in.
Depth 26 in.
Weight
277 lbs.
Window Size
14.5 in. by 8 in.
Flue Vent Size
3 or 4 in.
Top Vent
No
Rear Vent
Yes
Rear Vent Height
12.6 in.
Battery Backup
No,
See Stove Sentry
Surge Protector
Recommended
Colours
Black metallic, Rich brown metallic, and Designer shimmering red
Exhaust Temperature Sensor
Yes
Low Draft Shutdown
Yes
Construction Type
Fabricated steel
Automatic Shutdown and Re-ignition
Yes, with optional thermostat
Warranty
One year
Electrical components: Glass and burn pot for thermal damage.
Five years
Steel fabricated components.
10% discount on components after the warranty has expired. Original purchaser only.
Options
Colours: Black metallic, Rich brown metallic, and Designer shimmering red.
Ceramic Log Set
Wall Thermostat
Comments
The optional wall thermostat can only be used with heat settings from 1 to 3 because the damper must be adjusted manually for heat settings 4 and 5. The Solstice needs a floor protector which extends 14 inches in front of the stove. To avoid damage, the Solstice can only be used for from one to two hours on the highest heat setting.
Maintenance
Daily Stir the burn pot, wipe the glass. Weekly Empty the burn pot, clean the glass, brush out the combustion chamber. Annually, or for every ton of fuel. Empty ashes, clean interior venting, clean the blades of the combustion and convection blowers, clean the vent system, inspect the gaskets, empty and vacuum the hopper.
Review
If you would like to leave a review of the Breckwell Solstice P7000 pellet stove, please use the form on the contact page.