The Breckwell Big E Pellet Stove
The Breckwell Big E pellet furnace or home heater is called a furnace when it has the small viewing window, and a home heater with the larger door glass. It isn't physically so very big unless you add the enormous hopper extension, but it does pack a big punch.
Producing 55,000 btu., this stove is capable of burning for 140 hrs. without refilling, increasing to a massive 350 hours with the hopper extension.
I have to say that this is not a decorative stove, although it looks neat. Most suited to a hallway or basement rather than a living are. It can be noisy on high heat settings, but that output! That burn time!. Hard to beat.
The thirteen tube heat exchanger is large and effective.
See 'comments' below for an excerpt from an interesting review I received. If you are unsure of the meanings of the terms in the pellet stove review below,or their implications, please go to the
Pellet Stove Reviews
page for an explanation.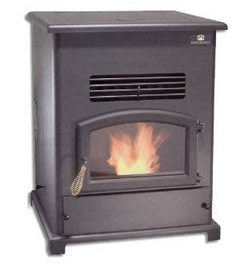 Heating Area
2,200 sq. ft.
Max. Heat Output 55,000 btu.
Min. Heat Output 8,000 btu., zero with optional thermostat
Automatic Ignition Yes
Manual Ignition If needed
Hopper Capacity 140 lbs. 350 lbs with extension.
Burn time 140 hrs. 350 hrs. with hopper extension.
Fuel Type Preferably premium pellets, but will burn standard.
Glass Air Wash No
Built in Blower Yes
Convection Blower Capacity 165 cfm.
Thermostat Compatible Yes
E.P.A. Approved Yes
Emissions 2.2 gr./hr.
Efficiency 81%
Dimensions
Height 32.6 in. 50 in. with hopper extension
Width 25.75 in.
Depth 23.9 in.
Weight 275 lbs.
Window Size Small 4 in. by 3 in. Large 12 in. by 7 in.
Flue Vent Size 3 in.
Top Vent No
Rear Vent Yes
Rear Vent Height 8.9 in.
Battery Backup No See Stove Sentry Surge Protector Recommended
Colours Black
Exhaust Temperature Sensor No
Low Draft Shutdown Yes
Construction Type Fabricated steel
Automatic Shutdown and Re-ignition Yes, with optional thermostat
Warranty
One year
Electrical components: Glass and burn pot for thermal damage.
Five years
Steel fabricated components.
10% discount on components after the warranty has expired. Original purchaser only.
Options
Hopper extension to increase size from 140 to 350 lbs.
Wall Thermostat
Hand held thermostat
Comments
The Breckwell Big E can be noisy on higher heat settings. This is probably not a stove to put in the TV room.
Some problems with the A-E-033 convection fan seizing. This is being replaced with the C-E-029 fan. Try to make sure the newer fan is fitted.
Without an air wash system, the viewing window will need regular cleaning.
Even the large viewing window isn't so large for the size of stove.
Excerpt from a review I received about a three year old 'Big E' that didn't work properly from new.
"After replacing some parts we found out the original fan never worked properly because when we installed the new burner fan we could miraculously run on heat settings four and five getting all the heat needed, the noise diminished greatly and the stove worked as advertised."
Maintenance
Daily
Stir the burn pot, wipe the glass.
Weekly
Empty the burn pot, clean the glass, brush out the combustion chamber and clean the heat exchange tubes.
Annually, or for every ton of fuel.
Empty ashes, clean interior venting, clean the blades of the combustion and convection blowers, clean the vent system, inspect the gaskets, empty and vacuum the hopper.
Review
If you would like to leave a review of the Breckwell Big E, please use the form on the contact page.