The Winslow Pellet Stove
The Country Collection Winslow pellet stove, by the makers of Whitfield pellet stoves, is a bay window type which provides a good view of the fire
It has a large pellet hopper, and a large ash pan as well which increases the intervals when the stove needs attention.
It has a robust heat exchanger with high capacity to transfer heat to the home.
The stove will cycle to a high combustion rate once an hour which blows debris away from the burn pot and reduces the frequency the burn pot needs to be scraped.
If you are unsure of the meanings of the terms in the pellet stove review below,or their implications, please go to the
Pellet Stove Reviews
page for an explanation.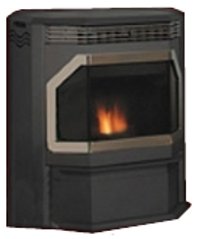 Heating Area 2,000 sq.ft.
Max. Heat Output 39,000btu.
Automatic Ignition Yes
Manual Ignition If needed
Hopper Capacity 60lbs
Burn time 33hrs.
Fuel Type Premium or standard wood pellets. Or 50% corn / pellet mix.
Glass Air Wash Yes
Built in Blower Yes
Convection Blower Capacity 150cfm.
Thermostat Compatible Yes
E.P.A. Approved Yes
Emissions 1.1gr./hr.
Efficiency 78%
Dimensions
Height 31"
Width 26.25"
Depth 23.25"
Weight 305lbs.
Window Size 18" by 10"
Flue Vent Size 3"
Top Vent No
Rear Vent Yes
Rear Vent Height 8.9"
Battery Backup No See 'Stove Sentry'
Surge Protector
Recommended
Colours Black
Exhaust Temperature Sensor No
Low Draft Shutdown Yes
Construction Type Fabricated steel
Automatic Shutdown and Re-ignition Yes
Warranty 20 year limited lifetime. Applies to original owner and installation address and covers the body, heat exchange tubes and glass, (thermal breakage).
Burn pot: 5 years
Electronic components and grate: 2 years
Options Door Trim & Grille
Black
Gold
Nickel
Brushed Nickel
Black Nickel
Brick Panel
Log Set
Remote Thermostat
Comments
Effective glass air wash system, can keep clean for up to 45 days.
Maintenance
The burn pot and its air holes should be cleaned after burning 200lbs. of pellets.
The ash pan should be emptied after burning 1,000lbs. of pellets.
The heat exchanger should be cleaned once a week using the built in scrapers.
The flue passageways in the stove should be cleaned after burning 1,000lbs. of pellets.
The combustion blower, convection blower, air intakes and the proof of fire switch should be cleaned after burning 2,000lbs. of pellets.
The rear stove compartment should be cleaned once a year, the door and window gaskets inspected, and the flue checked and cleaned if necessary.
Review
If you would like to leave a review of the Country Collection Winslow pellet stove, please use the form on the contact page.