The Whitfield Cascade Pellet Stove
The Whitfield Cascade pellet stove is an entry level stove. It is not adaptable to electronic ignition or a thermostat. The high efficiency 'ultra grate' operates at nearly 100% combustion. Up to 40 hours burn time.
Surge protection is recommended. If you are unsure of the meanings of the terms in the pellet stove review below,or their implications, please go to the
Pellet Stove Reviews
page for an explanation.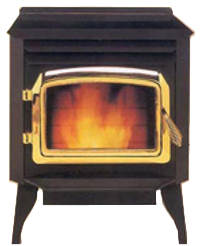 Heating Area Up to 1,500 sq.ft.
Max. Heat Output 30,000
Automatic Ignition No
Manual Ignition Yes
Hopper Capacity 60lbs.
Burn time 17 to 40 hrs.
Fuel Type Premium and standard grade wood pellets.
Glass Air Wash Yes
Built in Blower Yes
Convection Blower Capacity 102cfm.
Thermostat Compatible No
E.P.A. Approved Yes
Emissions 1.3g r/hr.
Efficiency 81%
Dimensions
Height 28"
Width 23.75"
Depth 22.7"
Weight 165lbs.
Window Size 11" by 8.25"
Flue Vent Size 3"
Top Vent No
Rear Vent Yes
Rear Vent Height 14"
Battery Backup No
See Stove Sentry Surge Protector Recommended
Colours
Black
Exhaust Temperature Sensor No
Low Draft Shutdown Yes
Construction Type fabricated steel
Automatic Shutdown and Re-ignition No
Warranty 20 year limited lifetime. Applies to original owner and installation address and covers the body, heat exchange tubes and glass, (thermal breakage).
Burn pot: 5 years
Electronic components and grate: 2 years
Options Gold door trim.
Comments
This is an uncomplicated stove with very little to go wrong and very little maintenance is needed. The large ash pan doesn't need frequent emptying.
Maintenance
The 'ultra grate' should be checked every day or so, making sure that the air holes are scraped clean.
Initially you need to check ash levels every day or so also, until you get used to how much ash is produced by the pellets you're burning. Dumping ash into the ash pan is easy: just pull back a sliding plate each side of the grate. Dumping the ash is recommended after half a ton of fuel has been burnt.
It's advised to check the exhaust passages and vent pipe for a build up of fly ash every month or two.
The heat exchanger tubes have a built in scraper to remove fly ash. Recommended frequency is from two days to two weeks.
Door gaskets, window wash vents and the rear stove compartment are advised to be checked once a year.
Review
If you would like to leave a review of the Whitfield Cascade, please use the form on the contact page.