The Traditions T300P-2 Pellet Stove
The Traditions T300P-2 pellet stove by Lennox, the makers of the Whitfield pellet stove, is very attractive, with none of that utilitarian look. Along with the optional log set, and a humidifying kettle on the trivet, it could easily be mistaken for a traditional woodburner.
In case of a power outage, the control board will keep its settings and the stove will light itself again when power comes back on.
It comes with a wall thermostat as standard.
The 50lb. hopper provides a long burn time along with low emissions and high efficiency.
If you are unsure of the meanings of the terms in the pellet stove review below,or their implications, please go to the
Pellet Stove Reviews
page for an explanation.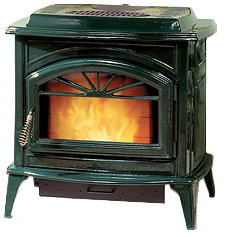 Heating Area 1,700sq.ft.
Max. Heat Output 32,000btu.
Automatic Ignition Yes
Manual Ignition If needed
Hopper Capacity 50lbs.
Burn time 34hrs.
Fuel Type Standard or premium grade wood pellets
Glass Air Wash Yes
Built in Blower Yes
Convection Blower Capacity 150cfm.
Thermostat Compatible Yes, supplied as standard.
E.P.A. Approved Yes
Emissions 0.43gr./hr.
Efficiency 85%
Dimensions
Height 28.75"
Width 28.75"
Depth 26.5"
Weight 363lbs.
Window Size 15" by 10"
Flue Vent Size 3"
Top Vent No
Rear Vent Yes
Rear Vent Height 8.75"
Battery Backup No See Stove Sentry Surge Protector Recommended
Colours
Hunter Green
Ebony Black
Mojave Sand
Painted Metallic Black
Exhaust Temperature Sensor No
Low Draft Shutdown Yes
Construction Type Cast Iron
Automatic Shutdown and Re-ignition Yes
Warranty 20 year limited lifetime. Applies to original owner and installation address and covers the body, heat exchange tubes and glass, (thermal breakage).
Burn pot: 5 years
Electronic components and grate: 2 years
Options
Decorative Log Set
Gold Trivet
Comments
The Traditions T300P-2 pellet stove remembers its settings and will come back on after a power cut. You may not want this to happen if you are going out. You could always unplug the unit.
Maintenance
The burn pot and its air holes should be cleaned between once a day, or at up to two week intervals as necessary
The ash slide plate should be used to drop the ash into the ash pan at intervals of up to two weeks as needed. The ash pan should be emptied at the same time.
The heat exchanger should be cleaned between every two days and two weeks using the built in scrapers.
The flue passageways in the stove and the flue itself should be cleaned every month or two.
The photo eye, which detects if a flame is present, should be cleaned along with its filter glass at between six months and a year. The filter glass itself may need cleaning more often.
The rear stove compartment should be cleaned once a year, the door and window gaskets inspected, and the combustion and convection blowers cleaned.
Review
If you would like to leave a review of the Traditions T300P-2 pellet stove, please use the form on the contact page.