Thelin Tiburon: Modern Styling from Thelin
The Thelin Tiburon pellet stove is innovative in that the owner can change the style of this pellet stove quickly, using only simple hand tools. Different grills are available for the front, ceramic or natural stone front lower panel inserts can be changed, and the colour of the stove body can also be changed to suit your decor
Capable of heating up to 1,800 square feet, the Tiburon produces up to 44,500 btu. The hopper on this stove will hold 52 lbs. of wood pellets and it can burn for 39 hours on one fill. The convection and combustion fans in this stove both run from one motor, which has the advantage of quiet operation and extremely low electrical power consumption, (27 watts). Battery backup is built in to the Thelin Tiburon - all you need is a twelve volt power lead and a deep cycle battery. The battery will automatically be trickle charged. A thermostat is available as an option. If you are unsure of the meanings of the terms in the pellet stove review below,or their implications, please go to the
Pellet Stove Reviews
page for an explanation.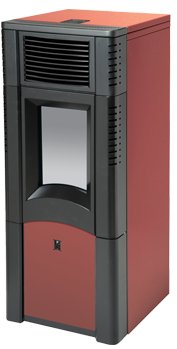 Heating Area
Up to 1,800 sq. ft.
Max. Heat Output
44,500 btu.
Min. Heat Output
10,400 btu. zero with optional thermostat
Automatic Ignition
Yes, see comments below.
Manual Ignition
If required.
Hopper Capacity
52 lbs.
Burn time
39 hrs. on low heat setting
Fuel Type
Premium grade wood pellets
Glass Air Wash
No
Built in Blower
Yes
Convection Blower Capacity
Variable, see comments below
Thermostat Compatible
Yes
E.P.A. Approved
Yes
Emissions
2.48 gm./hr.
Efficiency
84%
Dimensions
Height 41 in.
Width 17 in.
Depth 23 in.
Weight
215 lbs.
Window Size
10 in. by 6 in.
Flue Vent Size
3 in.
Top Vent
No
Rear Vent
Yes
Rear Vent Height
10 ins.
Battery Backup
Yes, a battery connected to this stove is automatically trickle charged.
Surge Protector
Recommended
Colours
Charcoal, black, red or mustard
Exhaust Temperature Sensor
Yes
Low Draft Shutdown
Yes
Construction Type
Fabricated steel
Automatic Shutdown and Re-ignition
Yes
Warranty
Five years for heater cabinet and body.
One year for electrical components and auger system.
Original purchaser only
Options
The Tiburon allows the owner to change the style of this pellet stove quickly, using only simple hand tools. Different grills are available for the front, ceramic or natural stone front lower panel inserts can be changed, and the colour of the stove body can also be changed to suit your decor.
Comments
Automatic ignition will not function when running on twelve volt supply. In a neat bit of design, the combustion and convection fans both run directly from the same motor with blades of different pitch. When running on a twelve volt supply, the stove will not ignite automatically if the thermostat shuts it down. It must be set to cycle between high and low.
Maintenance
Weekly: Clean out the stove and hopper with an ash vacuum. Clean the viewing glass. Clean the exhaust fan blades and the heat exchanger. Clean the air intake fan guard.
Monthly: Check the clean out tee and the venting for a build up of fly ash. The 'Tiburon' has a 'clean' setting which uses its fan to clean the combustion housing and the fan blades making this very easy.
Review
If you would like to leave a review of the Thelin Tiburon pellet stove, please use the form on the contact page