Green Mountain Grills
Green Mountain grills have a high peaked cover that allows for larger cooking projects such as beer can chicken where the chicken stands vertically supported either on a beer can or a special stand.
Both green mountain models come with a digital thermostat control and temperature read out, and a temperature sensor which detects the surrounding air temperature and automatically adjusts for colder weather. After cooking is over, 'fan only' mode can be used to burn unburnt pellets and to blow ash out of the firebox. The grilling grates are porcelain coated for easy cleaning and there is a useful hinged preparation tray with hooks for cooking utensils. Casters on the front legs are optional on the 'Daniel Boone', as is the dome thermometer. These are standard fittings on the 'Jim Bowie'.
Daniel Boone
Cooking area 400 sq. ins. (25" by 16")
Heat output
150 to 430 degrees
Dimensions
H48" W54" D24"
Weight
152 lbs.
Temperature control
Digital Thermostat
Options
Nickel-plated no-warp lid and chimney cap
Form-fitted weatherproof grill cover
Front casters
Dome thermometer
Jim Bowie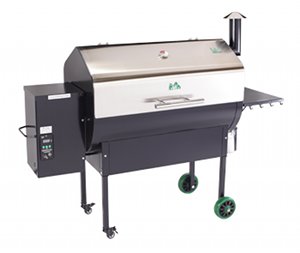 Cooking area 600 sq. ins.
Heat output
150 to 430 degrees
Dimensions
H48" W66" D24"
Weight
185 lbs.
Temperature control
Digital Thermostat
Options
Nickel-plated no-warp lid and chimney cap
Form-fitted weatherproof grill cover Contact:
Green Mountain