Fahrenheit Endurance 50F Multi Fuel Furnace
The Fahrenheit Endurance 50F is marketed as a multi-fuel furnace, but because it compares with pellet stoves in many ways, and can be used as a free standing multi fuel stove, I've used the stove criteria below to evaluate it. Producing 50,000 btu.'s and able to heat 2,500 square feet, This stove can either be connected to ducting or used as a freestanding stove with the optional warm air diffuser top. Features to note are the ability to change settings for different fuels using the control panel. If needed, the combustion air damper is also adjustable. The Fahrenheit Endurance 50F Will burn on low for an hour if it detects that no heat is needed, then it will shut down and re-light when heat is called for again. Combustion air is pre-heated before being sent to the burn pot. The burn pot cleans itself automatically by swinging in an upper burn plate. Fresh fuel now lands on this plate and is ignited by the lower burn plate. When the new fuel is lit, ash from the lower burn plate is dropped, the upper burn plate retracts and the fire is dropped to the original burn plate. If you are unsure of the meanings of the terms in the pellet stove review below,or their implications, please go to the
Pellet Stove Reviews
page for an explanation.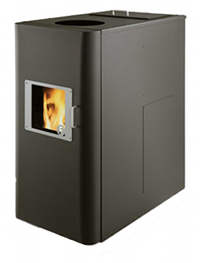 Heating Area 2,500 sq.ft.
Max. Heat Output
50,000 btu.
Min. Heat Output
Zero, will re-light automatically when heat is required.
Automatic Ignition
Yes, with automatic shut-down and re-ignition.
Manual Ignition
If needed.
Hopper Capacity
112 lbs, 250 lbs with the optional hopper extension.
Flow
Upflow
Warm Air Outlet Size
10 in. round for ducting, or an optional diffuser that allows use as a freestanding stove.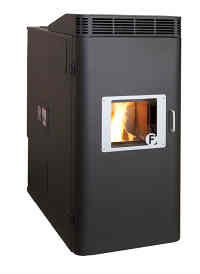 Breach (vent position) Top
Burn time
62 hrs. on low heat setting. 139 hours with the optional hopper extension.
Fuel Type
High ash pellets (paper and grass), wheat, corn, cherry pits and all grades of wood pellets.
Glass Air Wash
Yes
Built in Blower
Yes
Convection Blower Capacity
Two Speed 600-800 cfm.
Thermostat Compatible
Yes
E.P.A. Approved
Yes: see 'comments' below.
Efficiency and Emissions
No available data - see 'comments' below.
Dimensions
Height 40 in.
Width 20 in.
Depth 36 in.
Weight 380 lbs.
Window Size
8.6 in. by 8.6 in.
Flue Vent Size
4 in. Needs a 3 - 4 inch adapter from the furnace to the flue
Rear Vent Height
19.6 in.
Battery Backup No, See Stove Sentry
Surge Protector
Recommended
Colours
Charcoal grey
Exhaust Temperature Sensor
Yes
Low Draft Shutdown
Yes
Construction Type
Fabricated steel, stainless steel burn pot.
Automatic Shutdown and Re-ignition
If no heat is called for, the Endurance will burn for an hour on low then shut down. When heat is called for, it will re-ignite automatically.
Warranty
Original purchaser only.
Five years on body parts
Two years for mechanical and electrical parts.
Options
Cold air return from ducting
Hopper Extension ( increases capacity from 112 lbs. to 250 lbs )
Warm air diffuser which enables use as a freestanding stove without ducting.
Comments
Efficiency and emissions: to be accepted by the EPA, a wood pellet furnace must have an air to fuel combustion ratio of more than 35:1 by weight, and be more that 78% efficient. Because the Fahrenheit Endurance 50F is designed as a multi-fuel furnace, and can cope with varying degrees of impurities in the fuel, an efficiency rating which only applies to premium grade wood pellets would not be meaningful. Fahrenheit technologies claim a combustion efficiency of 99%.
Maintenance
Cleaning frequency depends on the amount and type of fuel being burnt. These recommendations are for moderate use. More frequent for higher use. Clean glass as necessary.
Every 4-5 days
Empty ash and clean the air box trap door. Clean the heat exchange tubes.
Monthly
Clean the burn pot, exhaust clean-out port, heat exchange baffle and air filter.
Bi-Monthly
Check exhaust system for creosote and ash build up.
Yearly
Inspect gaskets around stove openings, clean exhaust flue, grease ash removal actuators, clean the exhaust fan.
Review
If you would like to leave a review of the Fahrenheit Endurance 50F, please use the form on the contact page
Contact
www.fahrenheittech.com