The Enviro Mini Pellet Stove
What a crackling little stove the Enviro Mini is. Also sold as the Enviro Bern, good things come in small packages. It has a built in hearth pad and a heavy duty heat exchanger.
The Enviro Mini is a modern looking european style pellet stove. It produces 30,000 btu. or zero with the optional thermostat and has a maximum burn time of 36 hrs.
Thermostat ready, it is quiet running with a cushioned auger, can be operated without the convection fan, and you have the option to put the combustion blower outside your home.
It has a large ash pan that only needs to be emptied once a week and a hopper that allows thirty six hours of burn time on one fill.
If you are unsure of the meanings of the terms in the pellet stove review below,or their implications, please go to the Pellet Stove Reviews page for an explanation.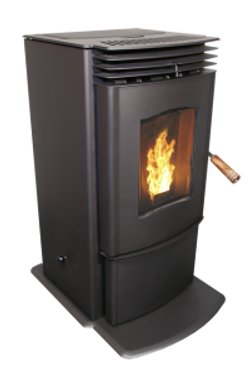 Heating Area
1,200sq.ft.
Max. Heat Output 30,000btu.
Min. Heat Output 12,000 btu. Zero with optional thermostat
Automatic Ignition Yes
Manual Ignition If needed
Hopper Capacity 48lbs.
Burn time 36hrs.
Fuel Type Standard or premium grade wood pellets
Glass Air Wash Yes
Built in Blower Yes
Convection Blower Capacity 130cfm.
Thermostat Compatible Yes
E.P.A. Approved Yes
Emissions Undisclosed
Efficiency 78%
Dimensions
Height 34.2in.
Width 17.5in. (19.75 inc. hearth pad)
Depth 19.5in. (24.9 inc. hearth pad
Weight 202lbs.
Window Size 11.5in. by 9in.
Flue Vent Size 3in.
Top Vent No
Rear Vent Yes
Rear Vent Height 10.25in.
Battery Backup No See Stove Sentry Surge Protector Recommended
Colours Black / Stainless
Exhaust Temperature Sensor Yes
Low Draft Shutdown Yes
Construction Type Fabricated steel
Automatic Shutdown and Re-ignition Yes
Warranty
Limited Lifetime Original purchaser. Covers the body of the insert or stove against material or workmanship defects for parts repair or replacement for seven years, labour for two years. Firebox, Heat Exchanger, Burn Pot, Firebox Panels, Ceramic Glass, Pedestals, Panels, Legs, Log Sets and Door Assembly.
Limited Three Year Warranty: Burn pot liner.
Limited Two Year Warranty: Ignitor, Auger Motor, Circuit Board, Timers, Temperature Sensors, Blowers, Vacuum Switch and Wire Harness.
Limited One Year Warranty: Exterior surface finishes against defects in materials and workmanship.
Options
Stainless steel side panels.
Outside combustion blower.
Comments
A neat, well designed little stove.
Maintenance
Every Two Three Days:
Inspect burn pot, clean the burn pot liner, clean out air holes, operate the heat exchanger cleaning rod.
Check the door latch, making sure it closes securely.
Clean the window glass as needed.
Weekly:
Check the door gaskets, re-glue if necessary.
Empty the ash pan and
Twice a Year
Make sure that the fresh air intake is clear.
Check and clean fly ash from the stove's exhaust passageways.
Remove the firebox backing and clean the back of the stove.
Annually:
Check and clean the exhaust flue every year or after burning two tons of pellets. Clean the glass air wash passages. Vacuum dust from the blowers.
Review
If you would like to leave a review of the Enviro Mini pellet stove, please use the form on the contact page.