The Enviro M55 Multi Fuel Pellet Stove
The Enviro M55 multi fuel pellet stove was introduced in the summer of 2009. It's a step top stove with an arched top door and viewing window, producing 55,000 btu. and able to heat an area of 2,500 square feet.
Using a burn pot agitator similar in design to the 'Omega', this stove is capable of burning almost any type of pellets as well as
corn
, wheat and barley Changing settings for different fuels is done with the push of a button
Unusually, this stove is able to automatically ignite any of its potential fuels because the igniter is aided by an air pump which raises the temperature of the starter.
The motors are capacitor driven for quietness, and a built in hearth pad is provided as part of the stove, which also has a fluted cast iron firebox liner for better heat exchange efficiency.
If you are unsure of the meanings of the terms in the pellet stove review below,or their implications, please go to the Pellet Stove Reviews page for an explanation.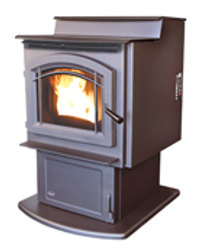 And here's the new M55, a cast iron version based on the Enviro Empress. The specifications are unchanged.
Heating Area
2,500 Sq. ft.
Max. Heat Output 55,000 btu.
Min. Heat Output 10,000 btu.
Automatic Ignition Yes, air pump aided
Manual Ignition If required
Hopper Capacity 80 lbs., 160 lbs with extension
Burn time 48 hrs., 96 hrs with hopper extension
Fuel Type Any biomass pellets, including paper and bark; also, corn, wheat and barley
Glass Air Wash Yes
Built in Blower Yes
Convection Blower Capacity 200 cfm. variable speed
Thermostat Compatible Yes, supplied as standard
E.P.A. Approved Yes
Emissions 2.3 gr./hr.
Efficiency 78%
Dimensions
Height 36.5 in.
Width 23.6 in
Depth 29 in.
Weight 300 lbs.
Window Size 10.3 in. by 15 in. and 16in. by 10in. for the cast version
Flue Vent Size 4 in.
Top Vent No
Rear Vent Yes
Rear Vent Height 18.25 in.
Battery Backup No See Stove Sentry Surge Protector Recommended
Colours Black
Exhaust Temperature Sensor Yes
Low Draft Shutdown Yes
Construction Type
Automatic Shutdown and Re-ignition Yes
Warranty
Part repair or replacement for the first seven years and limited labour for the first two years to the original purchaser.
Burn pot liner for three years.
Electrical parts for two years.
Exterior finish for one year.
Options
Tinted mirror finish viewing glass,
Wireless digital wall thermostat,
Remote control,
Brick effect fireback,
Ceramic log set,
Wooden door handle,
Hopper extension - increases capacity to 160 lbs.
Turbo fan
Comments
The burn pot cleaning mechanism can cause some slight noise
The Enviro M55 has the multi fuel advantages of the 'Omega', and a larger hopper capacity with the extension fitted.
Maintenance
Daily
Check the burn pot liner for blocked holes and clean if necessary
Weekly
Clean the heat exchanger tubes and door glass. Check the ash pan and door gaskets. Empty the ash pan. Clean the inside of the firebox.
Twice yearly
Clean the exhaust venting, exhaust passages and the fresh air intake.
Yearly

Clean the blower motors and mechanisms.
Review
If you would like to leave a review of the Enviro M55 multi fuel stove, please use the form on the contact page.