Englander Pellet Grill
Introduced in 2013, the englander pellet grill is the result of collaboration between Englands Stove Works and Ed Maurin (Fast Eddy).
Englander, well known for their pellet stoves, market the 21-PG100 as the 51-SHPG100 under the Summers Heat brand, and as the 51-TRPG100 for Timber Ridge. Ed Maurin is a well known competition barbecue master, who also markets his own range of smoker grills in collaboration with Cookshack and holds patents for direct cooking over flame, so this cooker's pedigree is excellent. The double front opening doors of this design with cool touch handles let you keep an eye on the different cooking areas without letting too much heat escape, as well as eliminating the need for a counterbalance and extra height clearance compared with styles that open the whole top. The direct cooking area over the flame is essential for searing. The hopper (18 lbs. capacity) holds enough pellets for smoking overnight, and the grease bucket is sized accordingly. Front ash drawer for easy emptying. Englands Stove Works has a general product policy of easy maintenance and low pricing, making this a very competitive unit. Unlike other BBQ's, the 21-PG100 is tested for safety by Underwriters Laboratories.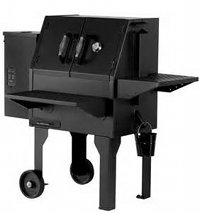 Cooking Area Direct heat 194 sq.ins.
Smoking/baking 320 sq. ins.
Warming 275 sq. ins.
Food Capacity
Extensive. Will accommodate an extremely large turkey or pork butt
Heat
170 degrees to 600 degrees (over flame).
Size
H 49.5", W 43", D 20".
Weight
230 lbs.
Warranty
One year
Comes With
Digital control board, connected to a thermocouple, and a door thermometer. Heat settings variable in 5 degree increments. Electronic ignition. Side shelf
Options
Bread warmer
Cabinet base
Contact
Englander Pellet Grill