The Englander 25EP Pellet Stove And Pellet Stove Insert
The Englander 25EP pellet stove and pellet insert marks a change from the old Englander double auger system. On this stove pellets are fed from above and drop down to the firepot
This is a modern looking stove with a large bay window which produces 25,000 btu. and can burn for forty hours between refills
The herringbone brick effect fireback and the ceramic logset come with the stove as standard.
The outside air vent kit is required with this unit and is also included
With emissions at a low rate of 1.43 grams per hour, the Englander 25EP is one of the cleanest burning pellet stoves available and has a firebox that is easy to clean out.
This stove is the same model as the Summers Heat 55-SHPEP and the TimberRidge 55-TRPEP
If you are unsure of the meanings of the terms in the pellet stove review below,or their implications, please go to the Pellet Stove Reviews page for an explanation.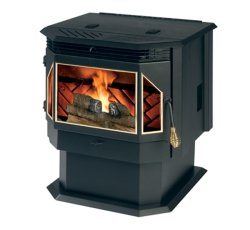 Heating Area
2,000 sq. ft.
Max. Heat Output 25,000 btu.
Min. Heat Output 10,700 btu. zero with optional thermostat
Automatic Ignition Yes
Manual Ignition If needed
Hopper Capacity 45 lbs.
Burn time 40 hrs.
Fuel Type Premium grade wood pellets
Glass Air Wash Yes
Built in Blower Yes
Convection Blower Capacity 140 cfm.
Thermostat Compatible Yes, available as an option
E.P.A. Approved Yes
Emissions 1.43 gr./hr.
Efficiency 78%
Dimensions
Height 29.5 in.
Width 25.5 in.
Depth 23.5 in
See below for insert dimensions
Weight 245 lbs.
Window Size 22.5 in. by 11 in.
Flue Vent Size 3 in.
Top Vent No
Rear Vent Yes
Rear Vent Height Freestanding 16 in. Insert 7.25 in.
Battery Backup No See Stove Sentry Surge Protector Recommended
Colours Satin black
Exhaust Temperature Sensor No
Low Draft Shutdown Yes
Construction Type Fabricated steel
Automatic Shutdown and Re-ignition Yes, with optional thermostat
Warranty
Metal structure of the stove is covered for five years. Mechanical parts, electrical components and glass are covered for one year. Original purchaser only.
Options
Wall thermostat
Remote thermostat
Door glass trim
Dimensions for The Englander 25EP Fireplace Insert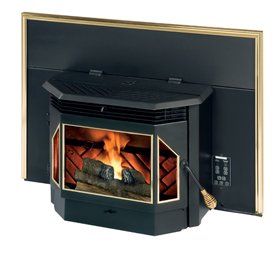 Dimensions Insert
Height 20 in.
Width 26 in.
Depth 13 in. onto hearth 9.5 in. into fireplace
Min. Fireplace Size
Height 20 in.
Width 21.2 in.
Depth 9.5 in.
Insert Surround Dimensions
29.25 in. by 40 in.
Comments
No feedback yet, but this seems a good stove
Maintenance
Daily:
Operate the heat exchanger cleaning rod. Scrape burn pot clean. Clean ashes into ash pan and empty ash pan.
Every Three Days:
Remove Ashes
Remove the firebox baffle and clean fly as from behind.
Monthly:
Clean the stove's exhaust chambers, Inspect and clean the venting system as necessary.
Annually:
Clean the combustion and convection blowers. Clean dust from the hopper and auger. Check gaskets for airtightness. Inspect flue and clean if necessary.
Review
If you would like to leave a review of the Englander 25EP pellet stove or fireplace insert, please use the form on the contact page.