The Englander 10CPM Pellet And Multi Fuel Stove
This overview of the Englander 10CPM also applies to the Summers Heat SHCPM/49 and the Timberridge TRCPM which are the same stove.
This is the first of the new generation of stoves from England's Stove Works and is unusual in that the automatic igniter is able to light corn so that the thermostat is able to turn the Englander 10CPM on and off. See comments below.
The ceramic brick effect fireback is standard with this stove. Ceramic firebacks are more brittle than the more common steel ones and have to be treated with care, but you won't have problems with paint peeling.
The control board has automatic settings for corn, wood pellets and cherry pits, as well as some diagnostics for possible problems.
Producing 24,500 btu, and capable of burning for thirty four hours between refills, this is a powerful stove. The optional saw grass design side panel inserts are prettily designed.
If you are unsure of the meanings of the terms in the pellet stove review below,or their implications, please go to the Pellet Stove Reviews page for an explanation.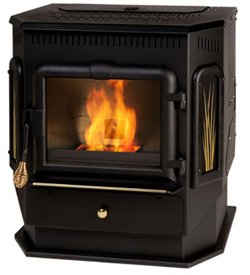 Heating Area
2,200 sq. ft.
Max. Heat Output 24,500 btu.
Min. Heat Output 10,000btu. zero with thermostat
Automatic Ignition Yes
Manual Ignition If needed
Hopper Capacity 50 lbs.
Burn time 34 hrs.
Fuel Type wood pellets, corn, cherry pits
Glass Air Wash Yes
Built in Blower Yes
Convection Blower Capacity 250 cfm.
Thermostat Compatible Yes
E.P.A. Approved Yes
Emissions 1.6 gr./hr.
Efficiency 78%
Dimensions
Height 33 in.
Width 28 in.
Depth 28 in.
Weight 350 lbs.
Window Size 14.75 in by 11.5 in.
Flue Vent Size 3 in.
Top Vent No
Rear Vent Yes
Rear Vent Height 19 in.
Battery Backup No See Stove Sentry Surge Protector Recommended
Colours Black
Exhaust Temperature Sensor No
Low Draft Shutdown Yes
Construction Type Fabricated steel
Automatic Shutdown and Re-ignition Yes, with optional thermostat
Warranty
Metal structure of the stove is covered for five years. Mechanical parts, electrical components and glass are covered for one year.
Options
Wall thermostat
Remote thermostat
Ash pan lip trim, brass or nickel
Decorative inserts for side panels, saw grass design, brass or nickel
Corn sifter for removing husks and other unwanted material
Comments
The igniter may not work with corn that has too great a moisture content.
Ashes must be brushed into the ash pan. They don't drop automatically.
Maintenance
Daily:
Scrape burn pot clean.
Every Three Days:
Remove Ashes
Inspect burn pot, clean out air holes.
Monthly:
Remove ash pan cover plates and clean ash from the heat exchanger, scrape creosote from the front of the auger and tube (this can bind the auger and cause a squeaking noise). Remove ash build up from flue pipes.
Annually:
Remove and clean the burn pot, replace the gasket. Clean the combustion blower and its tube, replace gasket. Inspect flue and clean if necessary.
Every Two Years:
Replace the door gasket.
Review
If you would like to leave a review of the Englander 10CPM Multi Fuel Stove, please use the form on the contact page.