Ecoteck Francesca
The Ecoteck Francesca is the smallest of the line of Ecoteck pellet stoves, with modern European styling, a steel body and a majolica top.
Giving 31,000 btu, and able to heat up to 1,200 square feet, this little stove has all the Ecoteck features including a humidifier tray and the option of GPRS text message control. The painted steel body is available in black, bordeaux and titanium finish. The majolica top section is in black. The seven day programmable timer thermostat is supplied with the stove as is the FIREX 600 combustion chamber. If you are unsure of the meanings of the terms in the pellet stove review below,or their implications, please go to the
Pellet Stove Reviews
page for an explanation.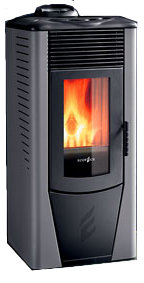 Heating Area
1,200 sq.ft.
Max. Heat Output
31,000 btu.
Min. Heat Output
8,500 btu.
Automatic Ignition
Yes
Manual Ignition
No
Hopper Capacity
33 lbs.
Burn time
30 hrs. on low heat setting
Fuel Type
Standard or premium grade wood pellets
Glass Air Wash
Yes
Built in Blower
Yes
Convection Blower Capacity
140 cfm.
Thermostat Compatible
Yes, external thermostat is available as an option
E.P.A. Approved
Yes
Emissions
1.45 gr./hr.
Efficiency
85%
Dimensions
Height 37 in.
Width 18 in.
Depth 18 in.
Weight
220 lbs.
Window Size
9.5 in. by 6.5 in.
Flue Vent Size
3 in.
Top Vent
No
Rear Vent
Yes
Rear Vent Height
10.1 in.
Battery Backup
No,
See Stove Sentry
Surge Protector
Recommended
Colours
black, bordeaux, and titanium with a black majolica top
Exhaust Temperature Sensor
Yes
Low Draft Shutdown
Yes
Construction Type
Fabricated steel with a majolica top
Automatic Shutdown and Re-ignition
Yes
Warranty
Three years on manufacturing defects providing the stove has not been misused or installed wrongly.
Not covered: Firex 600 combustion chamber, door glass, gaskets, burn pot, igniter, paint finish and cast majolica.
Options
Wall thermostat, remote control, GPRS text control
Comments
The Firex 600 combustion chamber and the Majolica panels are ceramic and vulnerable to breakage through careless handling, strong detergents and abrasive cleaning products.
Maintenance
Daily: Clean the burn pot and the heat exchanger.
Every two or three days: Clean the grill around the burn pot, the stove glass, empty the ash pan and vacuum the combustion chamber.
Monthly: Vacuum the hopper.
Yearly: Clean the flue, check the door gasket.
Review
If you would like to leave a review of the Ecoteck Francesca pellet stove, please use the form on the contact page.