Drolet Eco 35 Freestanding Pellet Stove
The Drolet Eco 35 pellet stove was introduced in 2007, a year after the slightly bigger Eco 45.
The Drolet Eco 35 is a neat little pedestal type pellet stove producing 35,000 btu/hr, capable of heating up to 1,600 square feet and burning for 27 hours on the low heat setting, ( or 88 hours with the hopper extension). A nice touch is the inclusion of filters for the convection blower to stop dust being blown around the house. (see comments below). Features common to all Drolet pellet stoves are six heat settings, removable door handles, a built in easily accessible ash pan, an optional thermostat and a noise reduction button for the convection blowers. If you are unsure of the meanings of the terms in the pellet stove review below,or their implications, please go to the
Pellet Stove Reviews
page for an explanation.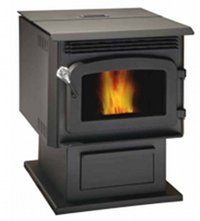 Heating Area
1,600 sq.ft.
Max. Heat Output
35,000 btu/hr.
Min. Heat Output
8,200 btu/hr. zero with optional thermostat.
Automatic Ignition
Yes
Manual Ignition
If Needed
Hopper Capacity
35 lbs. 115 lbs with the optional hopper extension.
Burn time
27 hours, on low heat setting, 88 hours with the hopper extension
Fuel Type
Premium Grade Wood Pellets
Glass Air Wash
Yes
Built in Blower
Yes
Convection Blower Capacity
210 cfm.
Thermostat Compatible
Yes,available as an option.
E.P.A. Approved
Yes
Emissions
1.2 gms/hr.
Efficiency
81%
Dimensions
Height 28.5 in.
Width 22.25 in.
Depth 25.2 in.
Weight
190 lbs.
Window Size
15.5 in by 8.4 in
Flue Vent Size
Three or four inch
Top Vent
No
Rear Vent
Yes
Rear Vent Height
16.7 in.
Battery Backup
No,
See Stove Sentry
Surge Protector
Recommended
Colours
Metallic Black
Exhaust Temperature Sensor
Yes
Low Draft Shutdown
Yes
Construction Type
Fabricated steel
Automatic Shutdown and Re-ignition
Yes with optional thermostat.
Warranty
Limited lifetime, original purchaser only
Combustion chamber (welds only), heat exchanger (welds only), auger, and castings. - Parts lifetime, Labor 3yrs.
Stainless steel firebox components, surrounds and heat shields, ash drawer, pedestal, trims (aluminium extrusions), and plating (defective manufacture) - Parts 5 yrs. Labor 3 yrs.
Carbon steel firebox components, burn pot, glass retainers, and handle assembly Parts 3 yrs. Labor 1 yr.
Blowers, auger motor, PC board, igniter, heat sensors, switches, wiring, rheostat, and other controls - Parts 2 yrs Labor 1 yr.
Ceramic glass (thermal breakage only), paint (peeling), gaskets, insulation, ceramic logs, masonry-like panels, and ceramic fibre blankets - Parts 1 yr.
Options
Masonry fireback
Decorative log set
Hopper extension
Wall Thermostat
Comments
It's important to keep the convection blower filters clean to maintain airflow to the heat exchanger. Lots of safety features including a removable door handle and auger housing heat sensors. The control board is pictorial and intuitive.
Maintenance
Daily: Empty the burn pot, wipe stove glass, use heat exchanger cleaning rod
Weekly: Vacuum heat exchanger tubes, convection blower filters and combustion chamber. Clean baffle, glass and ash drawer.
Bi Yearly: Vacuum left hand channel and exhaust blower. Brush pressure switch and inspect venting and gaskets
Yearly: Clean the venting system, empty and vacuum the hopper.
Review
If you would like to leave a review of the Drolet Eco 35 pellet stove, please use the form on the contact page.