Bosca Classic Freestanding Pellet Stove
The Bosca Classic 500 freestanding pellet stove is the Bosca Spirit in a very different casing. This enabled Bosca to increase the hopper capacity by 50% to 65 lbs..
Able to heat areas of from 15,000 to 18,000 square feet, the "Classic" is capable of 40,000 btu., but can run for 86 hours on low without re-filling the hopper. It is a radically different design from the ultra modern 'Spirit' and the classical looks wouldn't be out of place in a grand fireplace from the 1760's. The Bosca Classic also has an enlarged easily accessible ash pan to increase the interval at which ash needs to be removed. If you are unsure of the meanings of the terms in the pellet stove review below,or their implications, please go to the
Pellet Stove Reviews
page for an explanation.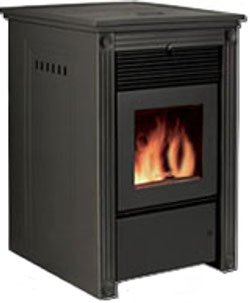 Heating Area
1,500 to 1,800 sq. ft.
Max. Heat Output
40,000 btu.
Min. Heat Output
8,200 btu.
Automatic Ignition
Yes
Manual Ignition
As necessary
Hopper Capacity
65 lbs.
Burn time
86 hrs.
Fuel Type
Premium grade wood pellets
Glass Air Wash
Yes
Built in Blower
Yes
Convection Blower Capacity
Varies according to feed rate, has a high volume over-ride switch. 160 cfm.
Thermostat Compatible
Yes, not included
E.P.A. Approved
Yes
Emissions
1.2 gr./hr.
Efficiency
85%
Dimensions
Height 35.2 in.
Width 23.2 in.
Depth 25.6 in.
Weight
284 lbs.
Window Size
10.25 in by 10.25 in.
Flue Vent Size
3 or 4 in.
Top Vent
No
Rear Vent
Yes
Rear Vent Height
17.6 in.
Battery Backup
No,
See Stove Sentry
Surge Protector
Recommended
Colours
Charcoal
Exhaust Temperature Sensor
Yes
Low Draft Shutdown
Yes
Construction Type
Fabricated steel
Automatic Shutdown and Re-ignition
Yes
Warranty
Seven years for all Pellet Stoves, and limited labor for the first 2 years to the original purchaser. This warranty covers: firebox, heat exchanger, burn pot, firebox panels, ceramic glass, panels and door assembly.
Three years: burn pot liner against defects in material and workmanship for part, repair or replacements.
Two years: all electrical components such us blowers, auger motors, igniters, wiring vacuum switches, speed controls, control boxes and thermodiscs switches.
One year: all exterior surface finishes against defects in material and workmanship, for part repair or replacements and limited for the first year to the original purchaser.
Options
Decorative refractive brick firebox
Comments
Feed rate and damper settings affect each other and must be adjusted manually to suit the quality of pellets and the output required. Occasional stirring of the hopper may be necessary to stop pellets 'hanging' on the sides or bridging the feed opening
Maintenance
Daily: Stir the burn pot, look for clogged air holes and wipe the glass.
Every two or three days: Clean the heat exchanger
Weekly: Empty the burn pot, clean the glass. Brush ash from the combustion chamber.
Yearly, or for every ton of pellets burned: Empty the ashes, vacuum the interior exhaust chambers, clean the blades of the combustion and convection fans, clean the venting, check for air leaks around the gaskets.
Review
If you would like to leave a review of the Bosca Classic, please use the form on the Contact page.