Black Olive Grill and Smoker - Ceramic Bodied Pellet Fired Kamado
The Black Olive grill is a ceramic bodied Kamado grill automatically fired by wood pellets and produced by Sherwood Industries, makers of the respected Enviro stove line.
The major advantages of the ceramic body are good heat retention, eliminating hot and cool spots in the cooking area often found in cookers with a metal carcase. Secondly, the ceramic parts are self - cleaning, needing no more than a brush down when the unit is cold. The Black Olive grill arrives securely packaged in a custom wooden crate, with a little assembly needed before it's ready for use. Due to its weight, and the fragile nature of the ceramic body until fully assembled, two people are required to put it together.
The hopper capacity of eleven pounds is enough for twenty hours of as a smoker on low or two hours of searing at 600 degrees plus on high. The right hand shelf carries the analog controller and the pellet hopper, but if space is at a premium, the left hand shelf need not be fitted. A weatherproof grill cover is included as standard and the weight of the dome top is supported by a sprung hinge. It's worth checking out the list of useful accessories below.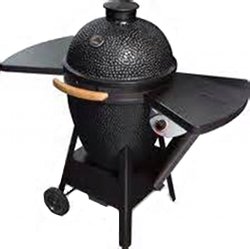 Cooking area 290 sq. ins.
Heat output
150 to 650 degrees
Dimensions
H 49" W 49.5" D 26" the left side shelf can be left off for use in smaller spaces, making it about 37 inches wide.
Weight
200 lbs.
Temperature control
Analog Dial - attention needs to be paid to the dome thermometer when cooking.
Options
Cast iron griddle - for eggs, bacon and more
Bamboo side shelves - sit on the metal shelves for preparing / chopping
Pizza stone - provides even heat over the grill area
Rib / roast rack - saves space when cooking large quantities of ribs. Inverted, it supports a joint.
Stainless cooking grill and double grill on legs - with cast grill in the lower position, the stainless grill can be mounted above, and the double grill on top of that - tripling the cooking area
Chicken rack - holds chicken vertically for good grease run-off and internal cooking.
Warranty
Seven years on ceramic shell
Five years on metal parts
Three years on electricals Contact:
blackolivegrill.com