The Avalon and Lopi AGP Pellet Stove
Travis Industries' AGP pellet stove (burns All Grades of wood Pellet) have moved towards the Harman concept with this freestanding replacement for the Avalon Newport and the Lopi Yankee Bay.
This stove has a bottom feed auger that allows new fuel to push ash out of the burn platform. Called a platform, not a pot because it's flat to allow ash to fall into the ash pan. Producing 41,000 btu./hr, and designed to heat up to 2,000 sq.ft. The AGP pellet stove has frequently vulnerable parts including the fireback and burn platform made from stainless steel. The door is cast iron The continually turning bottom auger has fuel metered to it by a horizontal rotating drum at the base of the hopper. The exhaust vent is at the center of the rear of the stove, making corner installation neater. The Avalon Newport Bay and Lopi Yankee Bay inserts are still available.
If you are unsure of the meanings of the terms in the pellet stove review below,or their implications, please go to the
Pellet Stove Reviews
page for an explanation.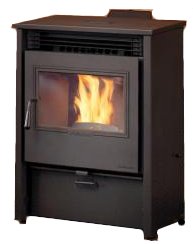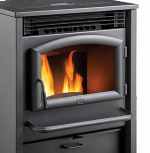 And here's a picture of the Lopi AGP, showing the different detailing of the cast iron door. The door style must be specified and ordered along with the stove.
Heating Area
Up to 2000 sq.ft.
Max. Heat Output
41000 btu/hr.
Min. Heat Output
11480 btu/hr.
Automatic Ignition
Yes
Manual Ignition
If required.
Hopper Capacity
80lbs.
Burn time
57 hrs. on low
Fuel Type
Any grade of wood pellets
Glass Air Wash
Yes
Built in Blower
Yes
Convection Blower Capacity
165 cfm.
Thermostat Compatible
Yes
E.P.A. Approved
Yes
Emissions
Less than 1 gm./hr.
Efficiency
75%
Dimensions
Height 33 in.
Width 24.25 in.
Depth 26 in.
Weight
275 lbs.
Window Size
14 in. by 9 in The Lopi AGP window size is slightly smaller, but does a good job of hiding the burn platform.
Flue Vent Size
3 in.
Top Vent
No
Rear Vent
Yes
Rear Vent Height
7.25 in.
Battery Backup
No,
See Stove Sentry
Surge Protector
Recommended
Colours
Black - the side panels can be painted in custom colours.
Exhaust Temperature Sensor
Yes
Low Draft Shutdown
Yes
Construction Type
Fabricated steel, stainless burn pot, cast iron door.
Automatic Shutdown and Re-ignition
Yes, using a thermostat.
Warranty
Original purchaser only
First two years: - Parts and labour on Firebox assembly, door assembly, auger assembly, ceramic glass, igniter system and electrical system
Third to fifth year: - parts and labour on Firebox assembly, door assembly and auger assembly.
Sixth and seventh year: - Parts only on Firebox and door assemblies
Options
Manual or digital thermostat, or Travis's Smart T-stat for more data and information.
Comments
A
warm ash vacuum
will assist greatly with the maintenance schedule.
Maintenance
Weekly: - Check flame performance, clean fire platform, clean heat exchanger
Monthly: - Empty the ash-pan, clean vertical exhaust ducts, clean the glass
Yearly: - Clean firebox liners, clean lower exhaust duct, clean convection blower, clean negative pressure tube, clean the vent system, clean under fire platform, adjust door hinge and latch and check for air leaks.
Review
If you would like to leave a review of the AGP pellet stove, please use the form on the contact page.